April's astrology continues to usher in the revolutionary shifts of 2020. It's a month to remember the power of our choices, actions and decisions. We are invited to learn not everything that is real is physical; embracing out multidimensionality will change the world. This month takes courage but we are all here for a reason. We were all born for these times. We are each capable and powerful.
Venus enters Gemini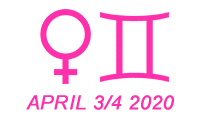 April's astrology updates kick off with Venus making moves. Venus, the planet of relationships, harmony and pleasure will receive some uplighting energy as she enters Gemini. However, she is due to retrograde in May. This retrograde will also be occurring in Gemini. Which means that there is much to learn and many ways to grow when it comes to our relationships. This includes our relationships to ourselves, our minds, communication and each other.
The best place to start is our relationships to what's in the ethers and not always seen. This includes everything from wifi, to our ideas, to our hearts.
Jupiter Conjunct Pluto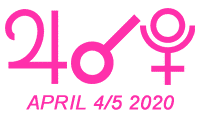 April's astrology is a continuation of the intensity. We've been feeling a build up and while this is a climax, the energetic effects will ripple out into the rest of the year. This energy began in January 2020. Take a moment to think back upon everything that has transpired since then. What have we learned? Where have we shifted?
With Mars and Saturn nearby these shifts are sure to be felt. Thankfully the benevolence of Jupiter's participation is opening the world to unimaginable potential.
We are rebuilding the systems that were established the last time Pluto was in Capricorn which was the in the late 1700s. There is a resurgence of power coming to the masses and this alignment supports the people.
Full Moon in Libra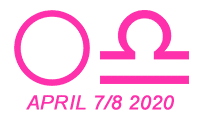 April's astrology is inviting us to look up at the Full Moon in all her glory and see ourselves as a reflection of her perfection.
This full moon is one of independence. We will see the roles we each play while also intimately understanding our connections to all things. Black Moon Lilith and Juno are squaring off. This opposition is inviting us to embrace many sides of ourselves.
We're asked to realize the varying roles we each play.
The lover, the partner, the badass, the parent, the child, the renegade, the creative, the employee… the list goes on and on.
Mercury in Aries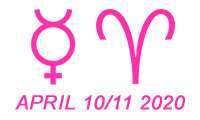 April's astrology includes a shift regarding the energy of Mercury. This is a time of being hyperaware of our communication habits and tendencies. Even though thoughts and words are non physical, they carry immense power. We are invited to harness our full potential by commandeering our minds and journeying along the cutting edge of space and time.
Taurus Season (Sun Enters Taurus)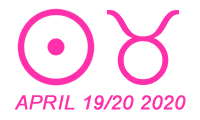 April's astrology brings a welcomed shift after the heat of Aries season (March 20-April19). The Sun is illuminating the energy of the steady and stabile Taurus. Our lesson will be to slow down and enjoy some Earthly pleasures.
Taking time to count our blessings may not feel like the easiest thing, and we may feel shell shocked from recent transits. However, if we invest in what feels right and just we will be surprised how quickly positive change can occur.
The Sun's transit through Taurus will be illuminating the energy of Uranus. Uranus is currently in Taurus and the last time the world saw this transit was 1934 to 1942.  Back then the world saw the end of the great depression. While there is messaging suggesting we are on the verge of a new depression, what if we've been in one and now is the time to rise out of it? What if now is the time to reinvent economics are we know it and return to a system built upon true value?
New Moon in Taurus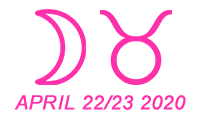 April's astrology includes a potent New Moon in Taurus. The soils of Taurus are fertile ones and whatever we choose to plant during this alignment will prosper. This is an invitation to choose our seeds wisely.
On Earth we have been led to believe in the material world. We worship brands, purchases and Earthly desires. There is nothing inherently wrong with this and it's all part of the human experience. However, it's now mandatory to understand there is more to life than physical gains and the satisfaction of desires.
We are opening our awareness up to a new frequency. Taurus energy is associated with the surface and the tangible. We now have a chance to integrate worlds. This New Moon asks us to embrace our physical and non physical nature. When we live with an energetic awareness we become channels of a new vibration on the planet. The frequency we anchor changes worlds.
Can we see 3D reality as the tip of the iceberg? Can we feel that within everything there is a deeper energy? Can we commit to looking below the surface? Can we embrace change? Can we welcome our multidimensionality?
Ceres enters Pisces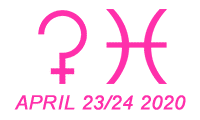 April's astrology is inviting us to understand Ceres. Ceres' energy is associated with the mother archetype. She's how we mother ourselves and how we care for others. The energy of Pisces is sensitive territory. We have all been through an immense journey lately and this transit invites us to get close to our sensitive sides. Like the love of an unconditional mother, Ceres is here to tend to our wounds.
Pluto Retrograde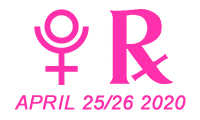 April's astrology brings an epic and palpable shift. Pluto is serious business, especially in the sign of Capricorn. Capricorn rules the establishment, power and the systems we adhere to. Since 2008 Pluto has been working to rebuild everything that has been enacted since the late 1700s.
We have been witnessing and participating in the dawn of a new age. Now the ball is in our courts and the next move is up to us… Spoiler alert humanity is fully capable of reclaiming the power of the people.
Pallas enters Aquarius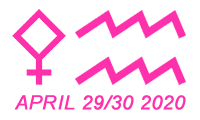 April's astrology offers a powerful opportunity to foster a relationship to Pallas. Pallas's energy is associated with the archetype of the father. Pallas energy is reason, logic and the rules. It's the provider; the one who will pull through for us all.
Of course, not all of us will have had this type of relationship with our human fathers, but as Pallas transits Aquarius we are invited to find support from alternative means. We are invited to reinvent ourselves and who we allow to control us. We are asked to be our own providers.
This transit will highlight our relationship to technology, it's important to become aware of whether we own our devices, or if they own us.
Stay tuned, we are going to be publishing articles and talking more in depth about each of these events. Comment below if you are excited about what's to come in this new month of April, and let us know which event you are excited about the most and why? 🙂
P.S. Our Moon Calendar & Daily Affirmations e-book is now ready and available to download! Tap on the image below. Sending blessings & infinite love your way! – The Moon Omens Team