June is a month of bright lights and lots of information. We are asked to assess the paths in front of us. There are many options and roads to take; each person will have their own route. June is a month of becoming aware of our personal path, instead of getting distracted by what other people are choosing to do.
It's a month where we may feel a pull to judge others or deem things as good or bad. Instead of jumping to conclusions, the astrology of June is like a light turning on that shows all the dust that has been collecting. Many things are coming to light this month. It's important to remain passionate and take action. But it's also important to stay true to the peace that exists in our hearts.
Full Moon Lunar Eclipse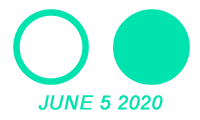 June 5th 3:12pm EST
This Full Moon Lunar Eclipse kicks off a month of transformation. It's the beginning of a new journey, and is the first Eclipse of a series of 3 that will occur this summer. This is a time of feeling our limits. Even though we might be ready to expand there are still some things that need tuning. During this Full Moon Eclipse may we allow ourselves to become aware of our limitations, instead of ignoring or fighting against them. During this Eclipse, hope comes from learning. We have to be willing to expand our opinions or perceptions; while knowing that growth takes commitment and dedication.
Mercury Retrograde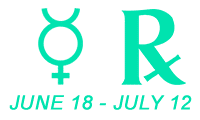 June 18th 12:59pm EST – July 12th
Mercury retrograde is nothing to fear or worry about. It's a time to get in tune with ourselves and our thoughts. This Mercury retrograde will be occurring in the sign of Cancer. Which invites us to become kinder with ourselves and others. This cycle will show us where we can nurture ourselves, but also where we need to step up our self care.
Cancer Season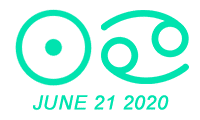 June 20 5:44pm EST
As the Sun travels through Cancer for 30 days we are all washed with the light of this sensitive sign. It's a time to listen to our feelings and our emotions. This means acknowledging what we are sensing. It's been a massive year of shifts and changes. We are like caterpillars that have transformed into butterflies. This Cancer season is our first chance at spreading these new wings. However, we've had to say goodbye to the caterpillar which can bring up grief. Honoring our emotions and letting them flow like the tides of the ocean is the key.
Solar Eclipse Solstice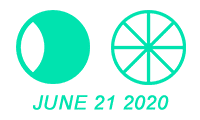 June 21 2:41 EST
This Solar Eclipse is occurring in tandem with the solstice, which is the brightest day of the year in the northern hemisphere. The Universe is pulling open the curtains and light is flooding into our lives. Sometimes we will welcome the sunlight and feel inspired. Other times we might feel a shock and want to draw back the blinds. Even though certain things may come to light during this time, it's important to listen to the timing of our own bodies.
Neptune Retrograde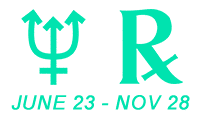 June 23 12:32 am EST until November 28 2020
This transit is very spiritual and invites us to explore the magic within ourselves. The inner realms are fertile and ripe with miracles. It's when we look outside of ourselves for hope that we might be disappointed. Instead this is about having faith in our inner Universes.
Venus Stations Direct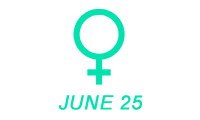 June 25 2:48am EST
Venus ends her retrograde which began on May 13th. Even though this cycle is ending, there are ample amounts of wisdom to carry forward. This is the time to walk our talk and make the changes we know we need to make. Venus wants us to stay true to our hearts and not fall back into old patterns.
Mars in Aries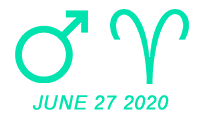 June 27 9:45pm EST
Mars enters Aries where it will remain for the rest of the year. Usually Mars speeds through a sign, but because of a Mars retrograde occurring from September 9th- November 13th, the planet of action will have an extended stay in Aries. This means there is no rush or urgency. In fact the lesson is to become patient, calm down and prioritize peace.
Jupiter Conjunct Pluto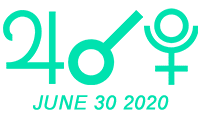 June 30 1:46am EST
This is the sequel to April 4's Pluto and Jupiter conjunction. The systems of planet Earth are changing and transforming. We can see it in our individual lives and on a collective level. Things are not the same as they were and there is a lot of room for improvement. Because both Jupiter and Pluto are retrograde during this conjunction it's time for us to make changes within ourselves. The new paradigm is born when we take responsibility for ourselves and the worlds we are creating. 
Please share this with others & comment below which of these events you're looking forward to the most. We wish you a beautiful, happy and abundant month of June. Sending love and blessings your way!